GRAND OPENING
Our opening was a huge success!  Thanks so much to everyone for coming out!  See our Facebook page for pictures! (https://www.facebook.com/Hellbound.Customs)
We're happy to say we're getting a lot of support and things are going great!  We now have T's (ladies fitted and v-neck and mens), tanks, and hoodies.  Soon to have hats!
We have many catalogues in the shop for all your wants and wishes!  Drop buy and have a look, most everything is 2-3 days away! 
541 Hwy #2 in Elmsdale - (902) 883-1577
We're now dealers for: 
MIDWEST
MID-USA
DNA Motorcycles
SUPERATV
Gorilla Axles
Daytona Helmets
Low Brow Customs
Accessoried HD
Vulcan Works/Motorway Engineering
HELLBOUND proudly displays awards from:
Halifax Bike Fest
Dutch Mason Blues Festival
Moto Moncton
Biker TV
Completely customized!  This bike is known as the Fallen Angel and was completed in October 2010.  Hellbound can build you the bike of your dreams!
Built on a frame that has a 6 inch backbone stretch, 4 inch stretch in the downtube and 38 degrees of rake in the neck. This frame is a single curved downtube configuration that really adds a lot of style!
The powerplant for this build is a 113 CI El Bruto  EVO that is show polished and provides 120 hp to the rear wheel with 125 Ft Lb of torque. This engine has a 4.00" bore, 4.5" stroke, and compression 10.2:1.  The oil system was plumbed using Fragolla swivel fittings in red/blue with 3/8" braided steel lines. The engine breathes through a set of RSD Razor pipes that provide a very loud and menacing sound.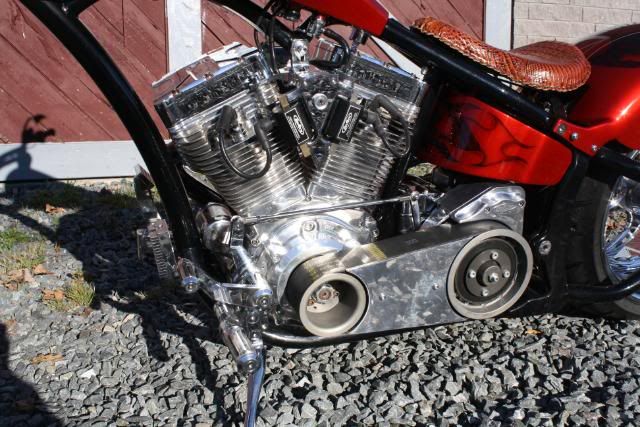 Power is delivered to the rear wheel via a 3" open Primary the utilizes a BDL ballbearing locking clutch, a HD Accessories 6 speed RSD hydraulically actuated transmission and a chain final drive.  Halting is accomplished by a 4 piston Willwood caliper up front and a 4 piston Willwood Sproter out back.
To get this power to the ground an Avon Cobra tire is wrapped around an 18 x 10.5" RC Components Havoc wheel which includes an amazing 7 yr warranty on the finish.
The hand controls are Pro-1 switches, the mirrors are Arlen Ness, the signals are drag specialties and are small enough to not take away from the overall clean look of the bike. The Speedometer/tachometer is a Dakota Digital unit and all wiring is internal for a very clean look.
The paint is a Gold base covered in a candy red. The gold really shows through in the sunlight and cannot really be appreciated in the pictures.  The artwork in the paint is an airbrushed Fallen Angel theme which is where the bike gets its name.  This paint job gives the the bike a bit of an evil twist that goes perfect with the lines and sound.